Welcome to Smatterings A Writer's Home Page guestbook!


1 Thu November 19 2009 - 11:26:23
Fullname: Amanda George
Email: catchers.fwf@googlemail.com
Where are you from?: UK
Homepage Name: Friends Without Faces
Homepage URL: www.friendswithoutfaces.org
Comments: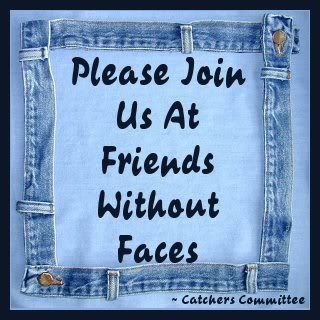 Please consider joining us at FWF... if you are over 18 years old and agree to the rules you will be accepted!



FRIENDS WITHOUT FACES


We sit and we type, and we stare at our screens


We all have to wonder, what this possibly means.


With our mouse we roam, through the rooms in a maze


Looking for something or someone, as we with in a daze.


We chat with each other, we type all our woes


Small groups we do form, and gang up on our foes.


We wait for somebody, to type out our name.


We want recognition, but it is always the same.


We give kisses and hugs, and sometimes flirt.


In PM's we chat deeply, and reveal why we hurt.


We do form friendships - but - how, we don't know


But some of these friendships, will flourish and grow.


Why is it on screen that we can be so bold


Telling our secrets, that have never been told.


Why is it we share the thought in our mind


With those we can't see, as though we were blind.


The answer is simple, it is as clear as a bell.


We all have our problems, and need someone to tell.


We can't tell real people, but tell someone we must,


So we turn to the 'puter, and to those we can trust.


Even though it is crazy, the truth still remains


They are Friends Without Faces, and odd little names.


~author unknown~

---

2 Wed December 17 2008 - 09:37:02
Fullname: Eduardo Lopes
Email: eduardo68@medicheaps.com
Where are you from?: Peru
Homepage Name: www.medicheaps.com
Homepage URL: www.medicheaps.com
Comments: great site

---

3 Sat August 30 2008 - 07:36:11
Fullname: Rodger Tutt
Email: rodgertutt@sympatico.ca
Where are you from?: Toronto, Canada
Homepage Name: HELL IS NOT ENDLESS
Homepage URL: http://greater-emmanuel.org/Hope4You/
Comments: My favorite quote outside of the Bible.

"God's purposes are so vast and glorious, beyond all guessing now, that when they are achieved and consummated, all our sufferings and sorrows of today, even the agonies that nearly break our faith, the disasters that well nigh overwhelm us, shall, seen from that fair country where God's age long dreams come true, bulk as little as bulk now the pieces of a broken toy upon a nursery floor, over which, thinking that all our little world was in ruins, we cried ourselves to sleep."

Dr. Leslie Weatherhead


---

4 Fri July 04 2008 - 06:41:31
Fullname: Herbert
Email: inbuch@ostsee-inside.com
Where are you from?: Germany
Homepage Name: Ostsee
Homepage URL: www.ostsee-inside.com
Comments: Nice Greetings from Germany, You have a realy good Website!
God bless you.
herbert

---

5 Tue May 27 2008 - 12:50:20
Fullname: Travis
Email:
Where are you from?: N. Ca., USA
Homepage Name: Traditional Family Resources
Homepage URL: http://www.focusonrecovery.net/
Comments: Hello Ruth, I greatly enjoyed your list of ancient text. I see you are schooled, rather than just following the status quo, therefore, I may be waisting your time and mine, however, I must ask;

Were you aware that the corporate Church of Rome appears to have purposely tried to deceive us regarding the true name of our Messiah. If our name retains the same sound harmonics and spelling regardless of language used, why then would anyone feel the desire to change our Messiah's name from Yahshua to Jesus?

Please give me 15 minutes of your time to review what my research discovered on this URL. Then I will give you the months that I wrestled with this. Shalom is on our horizon, and His name is wonderful.


---
Back to Smatterings A Writer's Home Page
Next